08.04.2020 - 29.04.2020
All players will get the chance to hunt for prizes in the yard. There's baskets of cash to be won!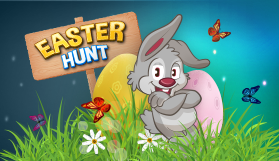 How it works:
To get involved in the fun, players simply need to play their favourite games as usual until they reach the minimum wagering requirement (according to VIP level) to qualify for the Easter Hunt bonus game. They can win the same prize again and again, but the objective is to collect as many different prizes as they can.
A prize will be awarded for each game played. The prize for each game will either be a collectible item or bonus money without additional wagering requirements. There are a number of prizes and dummy items hiding. If the player finds a dummy/false item, they continue searching 'til they find a prize. Players will win the first prize they reveal!
When a player collects 8 of the same item, he/she will win the monetary prize associated with that collectible. For example, if an Entry level player collects 8 red eggs, the player will win €40 cash (No wagering requirements).
Players can win cash prizes of up to €5,000 – with a prize awarded in every game. The first ticket is on us!