The Million Points Race  
22.01.2020-  29.01.2020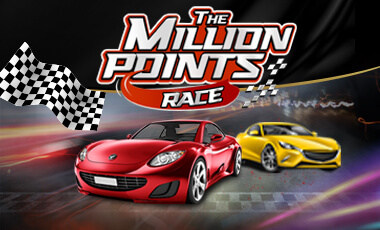 Starting the year with a boost, players will race up the VIP Ladder in a fierce battle for VIP Points in the ultimate money-making tournament!
This special tournament has 1 million VIP Points to distribute amongst 200 players, ranging from Entry Level all the way to Diamond VIP Level, who compete in 4 categories: 1) Entry; 2) Bronze & Silver; 3) Gold & Platinum; 4) Diamond - with 50 winners in each category. 
The Million Points Race ultimately encourages players to compete for their place in the top 50 of their VIP category; incentivising them to wager as much as possible, in order to win VIP Points.
Participation in the race is automatic for all eligible players - that is, those who are registered and have at least one successful deposit in their history.
How it all works
Players compete against each other - within their own category. They do this by wagering normally on one of our sites and accumulating tournament points for their wagers along the way.The top 50 players throughout the tournament in each category receive VIP Points according to the amount they wagered/ their respective place in the top 50 of their category at the end of the tournament.  Of course, the more VIP Points they accumulate, the better the packages and cash-outs they get from our VIP Store. 
Max payout/1st place by category:  
Entry -15,000 points
Bronze & Silver- 30, 000 VIP Points 
Gold & Platinum- 50,000 VIP Points 
Diamond - 75,000 VIP Points