We're well into the last quarter of 2020, and want to give you a great revenue boost to get the best results this festive season can offer you.
 Q4 is the most competitive time of year in affiliate marketing, and although even more marketers come into the mix around this time of the year, there is increased online traffic with holiday customers flocking to sites rather than stores, and with that, multiple great opportunities for you to make a big splash.
Black Friday, the incredibly popular day for deal-hunting consumers across the globe, is fast approaching and NetoPartners wants to celebrate by making sure you have the most lucrative deals available to you. Here's your chance to walk away with a lot of extra cash in your pocket!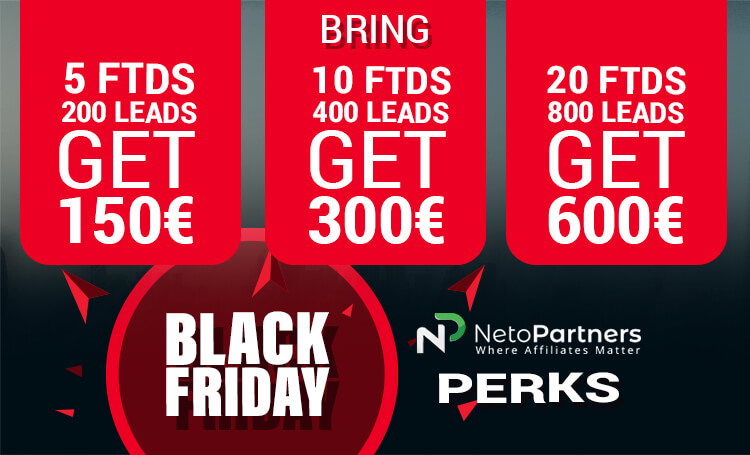 Bring in any of the following on the big day, Black Friday (27th November), and get the related bonus:
5 FTDs or 200 Leads -> Get €150
10 FTDs or 400 Leads -> Get €300
20 FTDS or 800 Leads -> Get €600
NetoPartners ensures that all of our affiliate partners are well looked after, not just with our special promotions, but all year round! With us, you don't only get rewarding special promotions - you can rely on receiving tailor-made marketing materials, top commission plans and the support of industry professionals with many years of experience.
NetoPartners is here for you, to assist you with all the tools and support so that you can rock the final quarter of 2020, and glide into 2021 with impressive profits!
 Contact your affiliate manager to hear more about the Black Friday promotion bonuses and stay tuned… we still have loads of promotions and offers in store for you to end your year on a high note!